Last Saturday morning the VroomVroomVroom Team set out to see Claude Harvey embark on his fundraising venture from the Gold Coast to Sydney. This AMAZING man is raising money for Bravehearts who help children who are the victims of sexual abuse. He will be pushing his lawn mower, stopping at various towns along the way. We had the pleasure of meeting with Claude and the Bravehearts crew for morning tea before he set off. We also had the priviledge of a guided tour of their new head office currently under construction.
After the formalities we got back in our bus and headed for the beach – out came the footy and the frisby for a bit of fun. Followed by fish and chips at the park – what a great day out!!! Who was silly enough to lose their car keys at the beach??? Dave…..
The Vroom Support Vehicle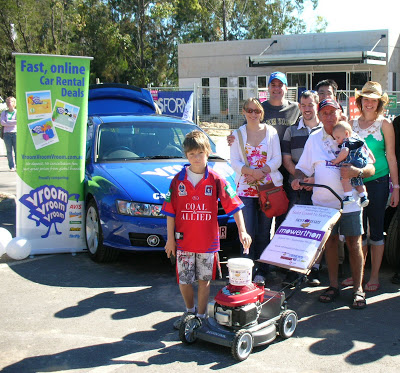 Claude with the lawnmower ready to depart.
At the beach. Where are Dave's keys, can you see them?